Mariinsky News
>
2016
>
Pianist Boris Berezovsky is to present the Music of the World competition and festival at the Mariinsky Theatre
16 August 2016
Pianist Boris Berezovsky is to present the Music of the World competition and festival at the Mariinsky Theatre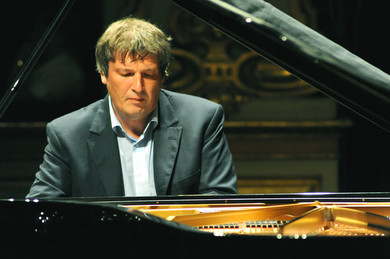 From 1 – 4 November 2016 the Mariinsky Theatre will be hosting the II All-Russian competition and festival Music of the World. The idea of running a music forum where ethnic and classical music are brought together at one venue was the brainchild of the great pianist Boris Berezovsky.
The Music of the World competition and festival is run with the support of the Ministry of Culture of the Russian Federation and introduces audiences to unique folklore performers of Russia who painstakingly collect and continue the musical traditions of their ancestors. At the same time, they also present rarely performed works by the great classics and new pieces by contemporary composers, the source of inspiration for which has been and remains folk music.
Continuing the life of folk art, which is still alive in the depths of our souls, and to demonstrate how, partially transformed, it resounds in classical music is the principal mission of the Music of the World festival.
This year audiences can expect several revelations – there will be two premieres at a gala concert. Especially for the festival, Alexander Tchaikovsky has composed a Piano Concerto also featuring Russian folk instruments. The piano role will be performed by Boris Berezovsky. The second premiere of the festival will be a Chamber Symphony Orchestra Concerto which was composed by Kuzma Bodrov who chose the gusli as the solo instrument. Finally, the folklore ensembles who come to the festival from all of Russia's regions will present a dazzling and mosaic-like musical map of the world in which we live.
Programme of events at the Music of the World competition and festival:
From 1-3 November at the Prokofiev Hall of the Mariinsky II there will be special concerts featuring fifteen unique folkloric Russian ensembles chosen by the Expert Committee on the basis of video material that has been submitted.
On 4 November the Concert Hall of the Mariinsky Theatre will host the final gala concert, where together with stars of world classical music there will be performances by six folkloric ensembles that have been selected as finalists for a music and folklore marathon.
Audiences can expect brilliant folk-music performers on the festival's website and choose the ensemble they like best. The ensemble that gets most on-line votes will take part in the festival! Please register your vote at the site www.muzikazemli.ru.
Submitted on 24 August 2016, Wednesday
---

Mariinsky Theatre:
1 Theatre Square
St. Petersburg

Mariinsky-2 (New Theatre):
34 Dekabristov Street
St. Petersburg

Mariinsky Concert Hall:
20 Pisareva street
St. Petersburg
To make an order, please use mobile version of our website - buy tickets from any smartphone