Mariinsky News
>
2016
>
Budapest Festival Orchestra to perform in St Petersburg for the first time
07 June 2016
Budapest Festival Orchestra to perform in St Petersburg for the first time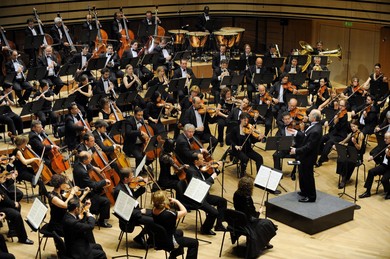 The world-famous Budapest Festival Orchestra conducted by Ivan Fischer will perform in St Petersburg, for the first time. The concert is scheduled for June 9 at 8.00 pm in Mariinsky-2.
Founded by Iván Fischer and Zoltán Kocsis in 1983, the orchestra ranks among the world's best ones today. It has twice been the recipient of the Gramophone Award, and has been nominated for Grammy. To date, the renowned musicians have appeared in Russia only twice, and only in Moscow. They played at the Moscow International House of Music (2004), and at the Moscow Hall of Columns (2009). The Budapest Festival Orchestra tours extensively around the world, participating in major music festivals.
The Mariinsky-2 concert on June 9 (8 p.m.) will feature the music of Card Game, a ballet by Igor Stravinsky, Symphony No. 8 by Antonín Dvořák and Concerto for Piano and Orchestra No. 1 by Franz Liszt. The piano solo will be played by Daniil Kharitonov, Grand Prix at the International Vladimir Krainev Competition and 3rd prize at the 15th International Tchaikovsky Competition.
Submitted on 25 August 2016, Thursday
---

Mariinsky Theatre:
1 Theatre Square
St. Petersburg

Mariinsky-2 (New Theatre):
34 Dekabristov Street
St. Petersburg

Mariinsky Concert Hall:
20 Pisareva street
St. Petersburg
To make an order, please use mobile version of our website - buy tickets from any smartphone