Mariinsky News
>
2016
>
The Mariinsky Theatre is to commemorate Prokofiev's birthday with concerts in Moscow and St Petersburg
25 March 2016
The Mariinsky Theatre is to commemorate Prokofiev's birthday with concerts in Moscow and St Petersburg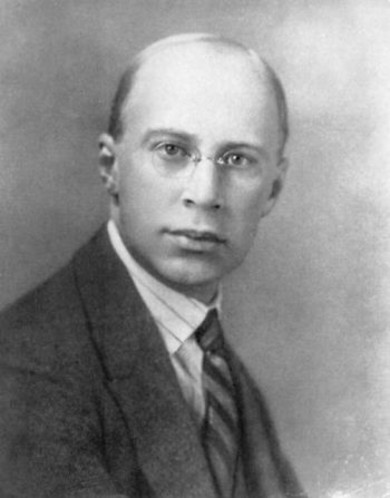 In 2016 the Mariinsky Theatre will be widely celebrating the 125th anniversary of the birth of Sergei Prokofiev. On 23 April – the day of the composer's birth – the Mariinsky Orchestra under the baton of Valery Gergiev will give a matinee performance in Moscow and an evening performance in St Petersburg.
The celebratory programme opens with a matinee performance by the Mariinsky Orchestra under the baton of Valery Gergiev at the Tchaikovsky Concert Hall in Moscow (11:30). The orchestra then departs for St Petersburg, while there will also be a Prokofiev Piano Marathon at the Tchaikovsky Concert Hall (15:00).
That day, Prokofiev's music will be performed at every stage venue of the Mariinsky Theatre. The matinee concert at the Concert Hall will see a Prokofiev Piano Marathon (12:00), the Stravinsky Foyer will host a Music Hour dedicated to the composer's works (15:00), the Shchedrin Hall will host a screening of Anna Matison's documentary film Prokofiev: On the Way (17:00) and at the historic stage of the Mariinsky Theatre there will be a performance of the balletCinderella (19:30). The varied celebratory programme at the Mariinsky II will also see screenings of acclaimed films by Sergei Eisenstein, music for which was composed by Prokofiev – Alexander Nevsky (18:00) and Ivan the Terrible (21:00).
The day will conclude with the Prokofiev Gala concert by the Mariinsky Orchestra under the baton of Valery Gergiev. The soloists are Kristóf Baráti and Denis Matsuev (Concert Hall, 21:00).
On 24 April the anniversary concerts continue at the Concert Hall. For the matinee here Daniil Trifonov will be performing (13:00), followed by the Alexander Nevsky cantata and the oratorio Ivan the Terrible featuring Olga Borodina and Yulia Matochkina (17:00), while in the evening cellist Gautier Capuçon will be performing (21:00). All three concerts with the Mariinsky Orchestra will be conducted by Valery Gergiev.
It should be noted that the Mariinsky Orchestra under Valery Gergiev is dedicating performances to Prokofiev not just in Russia but throughout the world. Concerts marking one hundred and twenty-five years since the composer's birth will take place this year in Italy, Sweden, China, France, Belgium, Great Britain, Luxemburg, Germany, Austria, the USA, Chile, Mexico and Cuba.
Submitted on 25 August 2016, Thursday
---

Mariinsky Theatre:
1 Theatre Square
St. Petersburg

Mariinsky-2 (New Theatre):
34 Dekabristov Street
St. Petersburg

Mariinsky Concert Hall:
20 Pisareva street
St. Petersburg
To make an order, please use mobile version of our website - buy tickets from any smartphone