Mariinsky News
>
2016
>
The world premiere of Leonid Klinichev's opera The Cossacks will bring the XXIV Stars of the White Nights music festival to a close
23 July 2016
The world premiere of Leonid Klinichev's opera The Cossacks will bring the XXIV Stars of the White Nights music festival to a close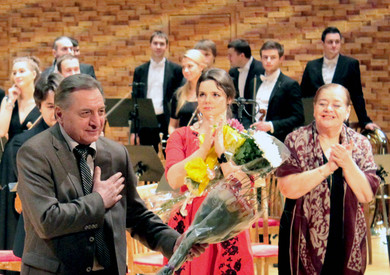 On 24 July at 19:00 the Concert Hall of the Mariinsky Theatre will host the world premiere of Leonid Klinichev's opera The Cossacks performed by soloists and the chorus of the Mariinsky Academy of Young Opera Singers. The Mariinsky Orchestra will be conducted by Zaurbek Gugkaev.
The idea of the opera The Cossacks based on Lev Tolstoy's story of the Caucuses comes from Larisa Gergieva, Artistic Director of the Mariinsky Academy of Young Opera Singers. "The opera The Cossacks is a completely different world, and the Academy's soloists responded to it eagerly and with delight. Even now, when we are putting the final touches to the work and are trying not so much to approach the literary source but to give the roles all their own nuances and shading, I can see that they find it all very interesting!" says Larisa Gergieva.
The roles are being rehearsed by Yaroslav Petryanik (Olenin), Maria Bayankina (Mariana), Vitaly Dudkin (Lukash), Dinar Dzhusoev (Grandfather Yeroshka), Yulia Suleimanova (Ustinya), Shota Chibirov (Vanyusha), Denis Begansky (Ilya Vasilievich), Olga Bobrovskaya (Mariana's Mother) and Saava Khastaev (Beletsky).
This is not Leonid Klinichev's first collaboration with the Academy: in 2014 at the Concert Hall of the Mariinsky Theatre came the world premiere of the opera Bela after motifs of Mikhail Lermontov's novel A Hero of Our Time, and 2016 saw the premiere of the mono-opera Anna, dedicated to Anna Akhmatova.
Submitted on 25 August 2016, Thursday
---

Mariinsky Theatre:
1 Theatre Square
St. Petersburg

Mariinsky-2 (New Theatre):
34 Dekabristov Street
St. Petersburg

Mariinsky Concert Hall:
20 Pisareva street
St. Petersburg
To make an order, please use mobile version of our website - buy tickets from any smartphone