25 May 2016
The terrace of the Mariinsky II is open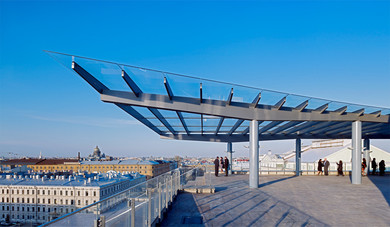 You are welcome to visit the roof terrace of the Mariinsky II with its staggering panoramic views of the historic centre of St Petersburg.
The terrace opens one hour before and closes ten minutes prior to any performance.
For an additional fee of 100 roubles, audiences at the Mariinsky II may purchase a roof-access ticket one hour before the main event on presentation of their tickets. Tickets are available from the box-keepers on the ground floor and those on the sixth floor before accessing the terrace.
On the terrace there is an audio excursion about the city's main cathedrals and churches that can be observed from the top of the Mariinsky II.
Please bear in mind that the number of visitors is limited.
We would ask that patrons familiarise themselves in advance with the rules for visiting the terrace.
Submitted on 25 August 2016, Thursday
---

Mariinsky Theatre:
1 Theatre Square
St. Petersburg

Mariinsky-2 (New Theatre):
34 Dekabristov Street
St. Petersburg

Mariinsky Concert Hall:
20 Pisareva street
St. Petersburg
To make an order, please use mobile version of our website - buy tickets from any smartphone